Authentic Connection Intro Workshop
Wellington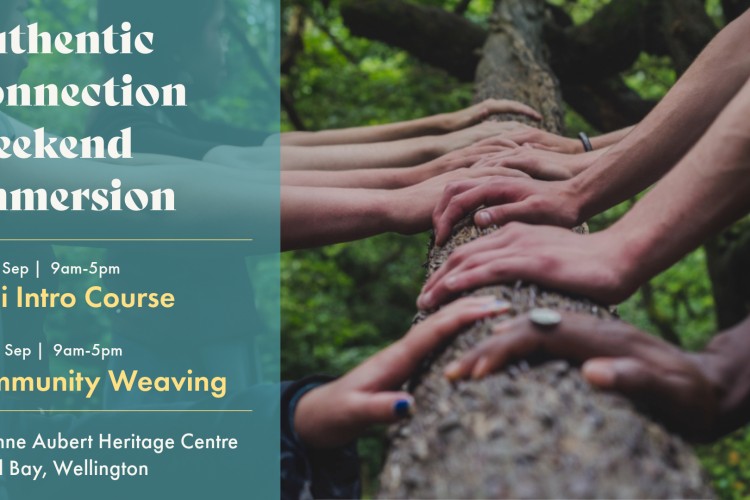 What would it be like to slow down, and be honest about what's really happening in us when we're together?

For me, everything changes. My friendships are deeper, my stress is transformed, my partnership is more loving, my sadness becomes beautiful, and my work is more fulfilling.

In our weekly practices we learn authenticity and communication skills in a way that we can start to incorporate into our lives little by little. In our immersion, we'll venture to get a glimpse of experiences that touch us deeply and open our eyes wide to new possibilities.

No experience necessary.

For more info on the Intro Workshop:
https://www.thefeelingsgym.co.nz/intro-course

-----

SCHEDULE (You can join for just one day)

-- Day 1: Mini Intro Course --
Saturday 23 September from 9am-5pm
Learn the fundamentals of creating authenticity in connection.

-- Day 2: Community Weaving --
Sunday 24 September from 9am-5pm
Day of practice to deepen connections within our community.
Vegetarian lunch, tea, and snacks is included both days

-----

PRICING

Single Day
$150 waged / $110 concession

Both Days
$250 waged / $190 concession

Earlybird discount available until 6 September. Use EARLYIMMERSION at checkout.

We have several scholarships available. Reach out if money is an obstacle.

-----

LOCATION

Suzanne Aubert Heritage Center
2 Rhine Street, Island Bay, Wellington 6023

We'll have a sun-filled room, surrounded by views into the surrounding garden and mountain bush and the peaceful birdsong.

Accommodations available at the center for those traveling from out of town. Reach out for more info.