Workplaces
We've sold out of our 2023 resource packs, but we've got loads of practical resources that you can download and print to get your workplace or organisation involved this Mental Health Awareness Week.
Make sure you sign up for our eDMs,
you'll be the first to hear about competitions, activities and more to help you spread the word, activate the Five Ways, and get involved in the week - stay tuned!
MHAW x Groov webinar partnership 🤝
Webinar one: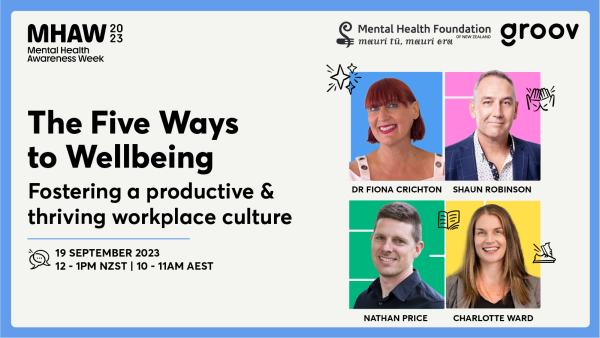 The Five Ways to Wellbeing: Fostering a productive & thriving workplace culture
Tuesday 19 September | 12:00pm - 1:00pm NZT
Join us for this uplifting and informative live kōrero, as Shaun Robinson (CE,
Mental Health Foundation
), Charlotte Ward (Chief People Officer, Kiwibank) and Nathan Price (Mental Health and Wellbeing Manager,
New Zealand Rugby
), catch up with Dr Fiona Crichton to talk about the importance of mental health and wellbeing in the workplace, and how this helps us show up at work as our best selves.
Register now.
Webinar two: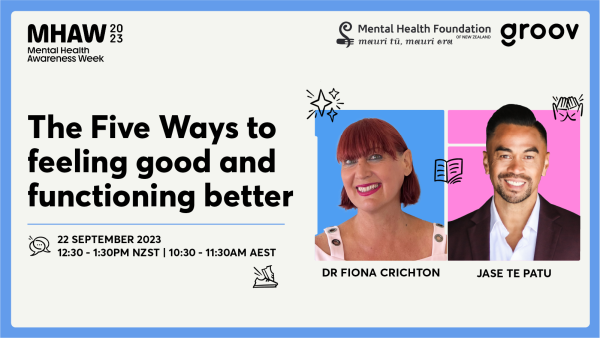 The Five Ways to feeling good and functioning better
Friday 22 September | 12:30pm - 1:30pm NZT
Join us for this inspiring and uplifting MHAW live kōrero, with
Jase Te Patu
(Te Ao Māori mental health advocate and mindfulness master), and
Dr Fiona Crichton
(VP Behavioural Science, Groov), as they speak about the Five Ways to Wellbeing, and the relationship to Groov's 6 Pillars of Mental Wellbeing, and Te Whare Tapa Whā.
Register now.
Other useful resources:
Visit our Top 10 Reads or Helpful Resources pages for further conversation starters, tips and info on mental health and wellbeing.