MHAW Instagram Challenge
The Mental Health Awareness Week (MHAW) Instagram Challenge is all about encouraging you, your whānau, your workplace or school to get involved in this year's theme:

re

connect with the people and

places

that lift you up,

hei

pikinga

waiora

.
The past couple of years have been tough and it's easy to feel disconnected from the people and places that are important to us. Reaching out to your whānau, visiting your favourite place or getting outside in nature are great ways to reconnect. That's why we're asking you to take part in a simple challenge this MHAW, to show us how you're reconnecting with the people and places that lift you up.
Show us how you're reconnecting this MHAW by sharing a photo or video in response to one of the daily prompts on the Mental Health Foundation's Instagram story that will be posted during each day of MHAW. At the end of the week, we'll be drawing five winners who will receive awesome prize packs!

How does it work?
Sign up for Mental Health Awareness Week (MHAW) updates so we can keep you in-the-know with the latest information.
Add your photo/video to the daily prompt button uploaded onto the MHF Instagram story at 8am each day of MHAW. You can do this by heading to our Instagram story, tapping on 'Add yours' underneath the prompt, and selecting an image from your camera roll or taking a new photo with your camera.

Make sure your profile is public so we can see your story

,

and feel free to tag us using @mhfnz

.

 Each daily prompt story will stay up on our profile until 8am the following day and will be added to the CHALLENGE section on our profile so you can easily find it.

For

inspiration and activity ideas for each day

,

you can also

check out the

MHAW 2022 Guide.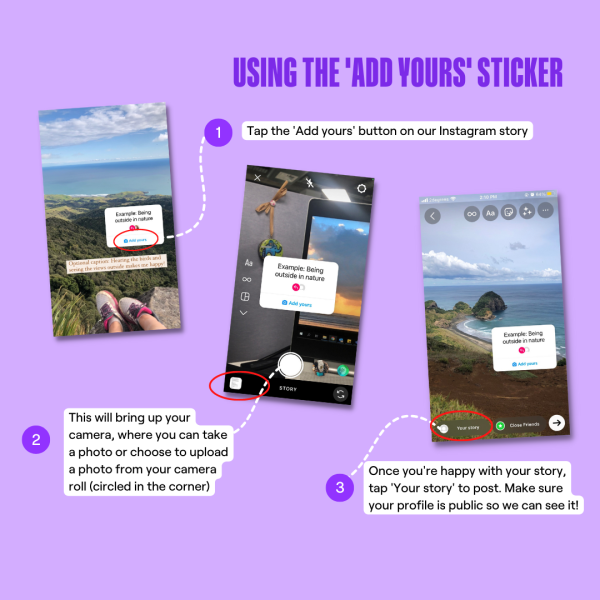 You'll notice we're not asking you to post on Facebook this year – in the past we've had a hard-time keeping track of entries on Facebook due to the way profiles are set up privately. We don't want to miss any of your incredible submissions, so we're keeping it simple and asking just for posts on Instagram this year. You are of course welcome to post on Facebook, you just can't enter the competition through Facebook.


At the end of the

week

, the MHF will choose

five winners who will win awesome prizes.

All prize winners will be contacted through social media, followed by a request to email their postage details to mhaw@mentalhealth.org.nz. These is our only official Instagram handle, please be careful of scammers.


For more information on the MHAW Challenge, check out our FAQs. You can also view our competition terms and conditions here.
Daily Themes
Rāhina / Monday: Reconnect with yourself
To start the week, let's begin by taking a moment to look inwards and set some whāinga/goals for the week ahead. Connecting with yourself is a skill - some people find writing their whakaaro/thoughts down helps, while others might find moving their body helps calm their mind. For some people, talking out loud to yourself can help clarify what's going on inside!   
Rātu / Tuesday: Reconnect with a friend or loved one
Today is about people: specifically, about reconnecting with whānau or a mate - someone special who you may have lost touch with or just wish you caught up with more often. Why not send a text, make a call or arrange a catch up in person with someone you want to reconnect with today? We bet it will give both of you a boost.
Rāapa / Wednesday: Reconnect with a special place
The places and spaces we spend our time in have a huge impact on how we feel. Just like we have special people who make us feel good, most of us have places we can go that calm, inspire or uplift us. It can be as simple as your local park, a hilltop with a nice view or even your favourite cafe!
Rāpare / Thursday: Reconnect with your community
Today is about reconnecting with your hapori whānui/wider community. It's the perfect time to sign up to be a volunteer or join a local community group. If that seems too big a step, it can also be as simple as making the effort to kōrero/talk with the people you interact with everyday but don't take the time to pause with. Whatever you decide to do, today is all about savouring the little hononga/connections that make us human.
Rāmere / Friday: Reconnect with nature 
To round out the week, we're asking you to reconnect with the beautiful taonga that is te taiao/the natural environment. Studies show exposure to nature not only makes us feel better emotionally, it contributes to our physical wellbeing, reducing blood pressure, heart rate, muscle tension, and the production of stress hormones. All the more reason to spend at least a small moment today outside - breathing in some fresh air and noticing the world around you.