Puna Pūtea | Social Action Grants 2022 - Introductory Webinar
Online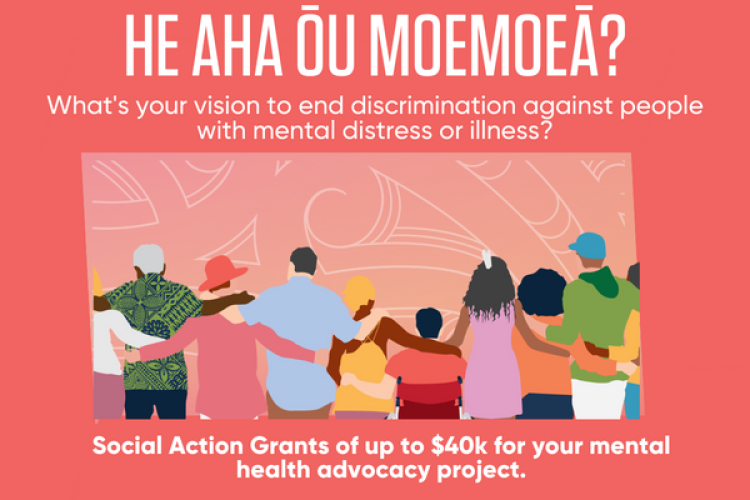 2022 Puna Pūtea | Social Action Grants

Being pre-judged or discriminated against for living with mental distress or illness is unjust, unfair and harms Aotearoa as a whole – and it's also a known barrier to recovery.

That's why we've developed the Puna Pūtea or Social Action Grants: grants of up to $40,000 awarded to individuals, organisations and community, hapū or iwi groups. These grants will fund projects that challenge the unfair judgements and discrimination those of us with mental distress or illness can face.

Interested to learn more?
Join our grants kaimahi/team online at 11am, Thursday 29 September for our launch event! You'll hear about what kinds of grants are available, what we're looking for in a grants application, and how you can apply for funding. You'll also hear the sweet sounds of our guest musician, MOHI, and be able to listen to an amazing panel of guest speakers working in the mental health space. Be prepared to feel inspired!

The sweet sounds of MOHI
We are lucky to have MOHI performing at our grant launch. MOHI is an incredible musician descending from Te Tai Tokerau, Tauranga Moana and Ngāti Kahungunu ki Te Wairoa! and a fresh new talent to the Aotearoa music scene! Growing up in the cityscapes of West Auckland, MOHI's smooth and soulful voice weaves urban sounds with ancient taonga, creating a unique sound that he is quickly becoming well-known for.

Our speakers:
Along with MOHI and you, our guests, we're honoured to be joined by some very inspiring individuals to launch our Social Action Grants programme. Each of our speakers are fiercely committed to ending discrimination against those of us with mental distress and will speak to why this is important.

You can read more about our speakers below.

Shaun Robinson
Chief Executive
Mental Health Foundation of New Zealand

Shaun has worked in social and health services for over 30 years. With degrees in business and community work, he has held four other CEO positions in not-for-profit organisations, addressing issues from care and protection of children to HIV and AIDS. He has also been a management consultant to public hospitals, developed a successful training business and been a policy advisor to former New Zealand prime minister Helen Clark.

Shaun says it is a privilege to contribute to the mental wellbeing of New Zealanders, and to the flourishing of our diverse communities.

Michael Naera, Pou Kurutao
Nōku te Ao Like Minds - Acting Programme Lead
Te Whatu Ora

Michael has made significant contributions to improving mental health services and suicide prevention strategies and activities for Māori across Aotearoa New Zealand. He is recognised as one of our 100 Maori Leaders alongside Sir Mason Durie and Dame Tariana Turia.

A sought-after keynote speaker, Michael has spoken at the World Congress on Public Health conference as a Global Leader on Indigenous Suicide Prevention and travelled to indigenous nations to present on Māori and indigenous suicide prevention.

Gina Giordani
Kaiwhakapiki Ora | Nōku te Ao: Like Minds Social Movement Programme Lead
Mental Health Foundation of New Zealand

Gina has her own lived experience and enjoys engaging with diverse lived experience communities across Aotearoa. She has built a career out of working in political and advocacy spaces which has included advancing the rights of workers and women. She now dedicates her time to mental health promotion and human rights advocacy.

Our panel of previous Like Minds, Like Mine Community Grant recipients:

Borni Te Rongopai Tukiwaho
Kaiārahi | Te Ora Auaha
Kaiwhakahaere/Founder | Taurima Vibes
Director | Auckland Fringe Festival: Te Ahurei Mōwaho o Tāmaki Makaurau

Borni has navigated his career between the hauora/health and arts sectors, consciously creating and weaving pathways between the two. He has a bachelor in performing and screen arts and studied his post-grad in applied theatre and social education.

Borni also works alongside Mind and Body, is Kaiārahi for Te Ora Auaha a national arts/hauora brokership network and sits on the Te Whatu Ora: Health NZ National Tangata Whenua Health Advisory Rōpu.

George V
Founder and co-director
TātouTātou Consulting

George is the founder and co-director of TātouTātou Consulting, which uses design-thinking in a culturally-appropriate manner to improve the experiences of marginalised communities in Aotearoa.

George is proudly from Siusega, Samoa and is based in Whangārei where he runs TātouTātou with fellow co-director and wife, Tarapuhi and their two-year-old, Hawaikinui.

Nicola Clarke
Oranga Hinengaro | Advocate for Tāngata Whai Ora
Tui Ora | Māori Health Provider

Nicola was raised in Rotorua and moved to Ngāmotu (New Plymouth) with her son 20 years ago. Nicola's role is to advocate for, and tautoko, tāngata whai ora using her own lived experience of mental health and addiction.

Nicola sits as a member of the Consumer Council for Te Whatu Ora: Health NZ Taranaki and until recently was a Regional Lead for Te Kete Pounamu. She is passionate about the lived experience space and works to increase recognition for the contributions it brings.

Register now! Register for our incredible grants launch webinar by purchasing a free ticket (see the button to your right) and we'll follow up via īmera/email with further details.

Nau mai, haere mai - see you on Zoom!
Download flyer