KiND.MiND Online Retreat (26th September)
Online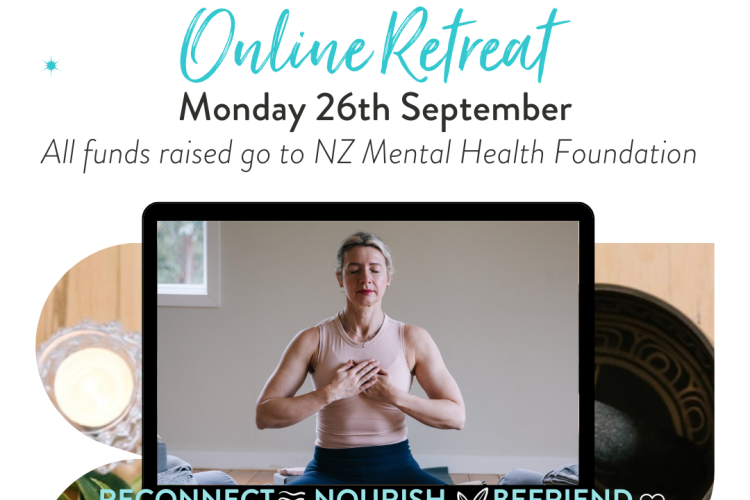 As part of the NZ Mental Health Awareness Week, the KiND MiND retreat has been created to help you RECONNECT, NOURISH and RESTORE from the inside out.

This online retreat has been specifically designed to provide practices, education and inspiration that enables you to attend to your mental, physical and emotional health and wellbeing.

This day is for anyone and everyone wanting to explore and learn about practices and topics that help you cultivate a KiND MiND.

Whether you are a workplace looking to organise an event to boost mental wellbeing for your people OR an individual looking for a structured space to reconnect, restore and learn - this does that all for you.

Not only that, all funds raised go to the Mental Health Foundation of New Zealand - helping support the mental health of others across New Zealand too.

All you need to do is set aside the time, and pay for your ticket as a rich investment into the mental health of both yourself and others across New Zealand too.

RETREAT PROGRAMME

Check out the retreat programme below. Come to all or any of these sessions that work or resonate for you.

7:30am Retreat WELCOME & GUIDED MEDITATION - WITH event founder LOTTY ROBERTS

8.00am YOGA - YIN YANG FLOW (45mins) - Yoga Teacher Kate Pascall - This will be both energising and relaxing, bringing together both Yin and Yang and an invitation to be the witness of your own practice and play with the idea of 'effort and ease'. We will start slowly, move through a gentle flow sequence, and finish with some lovely floor based postures. Whether you are new to yoga or a regular practitioner this session will offer you some peace in body and mind. A great way to start your day, grounded, energised and present.

9.00am BE TENDER - SELF COMPASSION THE GIFT THAT KEEPS ON GIVING (50mins) - Lotty Roberts - In this session Lotty Roberts talks about what self compassion really is and how it's a key ingredient to your resilience and well-being. You will learn why you may find compassion (particularly self compassion) hard, how it differs from, and relates to, kindness, and how it really could be the best gift you could give to yourself. Lotty will also share practical tips on how to develop a truly KiND MiND including what she refers to as 'Tender Discipline' - which may completely change your relationship with what you think discipline is and improve your relationship with yourself.

10.00am MINDFUL ACT - MAKING CHANGES THAT REALLY MATTER TO YOU (50mins) - Kerene Strochnetter - We all know what we should do to live a healthier happier life, yet we constantly sabotage ourselves. Why is it all so hard!? The thing is, the human mind is designed for suffering. Without a way to manage your mind, it will end up managing you. Using the ACT matrix (Acceptance and Commitment Training) with mindfulness at its core, Kerene Strochnetter will take you through a powerful exercise to take back control of your life. Kerene will help you gain clarity on what really matters to you, expose your common derailers and choose ONE new behaviour to work on.

11am OWNING THE IMPOSTER SYNDROME: FROM INNER CRITIC TO INNER COACH (60mins) - Dr Bex Bell - Believing we're not-good-enough can hold us back from doing our best work and living our best life. That nagging critical inner voice can push us into unhelpful patterns and limit our willingness to seek opportunities, lean into change, and learn from mistakes. Join Dr Bex for a real, relatable conversation about the Impostor Syndrome. Bex will share practical, evidence-based strategies that will help you shift from an Inner Critic to Inner Coach mindset. It's 100% possible to do your best work and live your best life even if you feel like an impostor sometimes - come and find out how!

1.00pm EMOTIONAL WELLBEING WORKSHOP (Featuring 'The Wellbeing Deck') (2hrs) - Lotty Roberts - How do you feel when you are flourishing and well? How do you feel when you are languishing and low? In this interactive workshop designed to create your own plan to support your emotional wellbeing we will unpack that and more. Lotty will help you explore the wisdom of your emotions using 'The Wellbeing Deck' to help you understand influences and practices that help promote your wellbeing and detract from it. By the end of this session you will be well on the way to creating a plan to support your wellbeing going forward.

3.30 pm BREATHWORK WORKSHOP (60MINS) - Lotty Roberts - The ancient practice of Breath-work is now being recognised as one of the most powerful wellbeing practices to integrate into our, busy, modern day lives. It is a powerfully transformative tool that allows us to balance our physical, mental, and emotional wellbeing. If you are keen to find out more and experience the power of breath-work for yourself, then this session is for you. Lotty will take you through various breath-work techniques and supporting practices, before finishing with a breath-work journey to help you regain balance, access a sense of calm and support your overall wellbeing.

4.45 pm - FINAL REFLECTION PRACTICE AND RETREAT CLOSE - Lotty Roberts - Before we depart and go about our day come join together in a virtual closing gathering where you will be prompted to reflect on what you have learned and gained from your day retreating. What you may do differently to support your mental wellbeing going forward and feel a sense of connection that no matter how alone you may feel at your lowest - we are all in this together and far more connected than we sometimes realise.