Blue Stories Project: Canterbury Region
Canterbury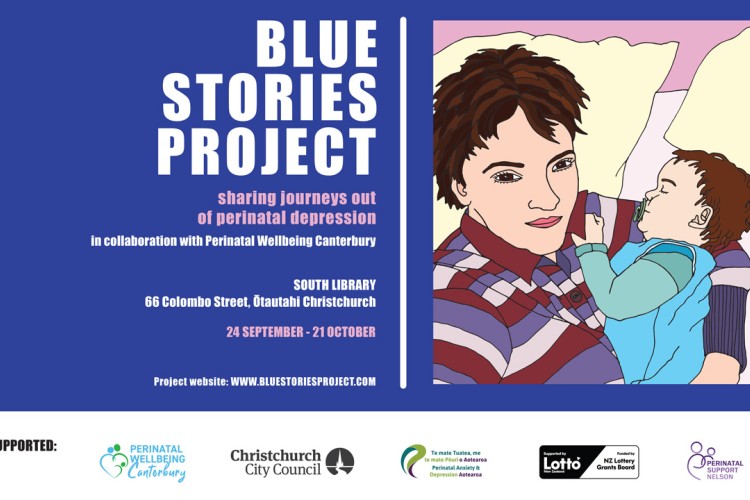 In 2021, the "Blue Stories Project: sharing journeys out of perinatal depression" was initiated in Whakatū Nelson by illustrator and designer, Karolina Gorton, and Perinatal Support Nelson, as an exhibition of portraits alongside inspiring and encouraging stories. In 2022, the Project is expanding its reach nationwide. Canterbury is lucky enough to have two exhibitions, one during Mental Health Awareness Week. The Blue Stories Project in collaboration with Perinatal Wellbeing Canterbury present an exhibition of stories from Cantabrians and original artwork created by Karolina. These will be exhibited from 1pm on the 24th of September to the 21st of October at Christchurch South Library and from the 10th of October to the 6th of November at Tūranga. You are invited to come along and connect with these storytellers and the inspiring stories that so often remain untold.

"...a deeply moving and profound project..." - Rachel Sanson, Nelson City Councillor
"The PND project display stopped me in my tracks today. Ka rawe! Good to see PND in the spotlight, from first person perspective." - Rosamund Feeney, Community Programme Coordinator

Kaupapa
The Blue Stories Project supports activities that encourage rerekē mō te pai (change for the better) and te kotahitanga i roto i te kanorautanga (unity in diversity). This is a project that creates a culture of supporting ALL women and their families. It educates communities and normalises the topic of PND.

Ngā mihi nui
The Blue Stories Project has been created in conjunction with Perinatal Support Nelson and Perinatal Anxiety & Depression Aotearoa (PADA) and with support from the National Lottery Community Grants scheme. These seven organisations are involved in the project: Well Women Franklin, Perinatal Wellbeing Canterbury, Maternal Mental Wellbeing Marlborough, Central Lakes Family Services, True Colours - Honouring the Mother, Kidz NeedDadz and Little Shadow.

What's next?
During Aotearoa New Zealand's Mental Health Awareness Week, the Blue Stories Project is launching a nationwide poster campaign to promote awareness of perinatal depression. Look out for our posters on a bollard near you!

Want to find out more?
Head to www.bluestoriesproject.com to listen to interviews and to see the complete Blue Stories Project exhibition schedule.